Course Description
Gravitec's SPRAT Rope Access Level I Course is designed for personnel using ropes to access work areas. This course combines interactive classroom sessions with extensive hands-on fieldwork to maximize the learning experience. Participants are trained in techniques using equipment developed for high-angle environments commonly encountered by rope access personnel.
This course covers all the skills needed to evaluate for a SPRAT Level I certification as set forth in SPRAT's; Safe Practices for Rope Access Work and Certification Requirements for Rope Access Work documents. Additionally, this course meets the Criteria for Accepted Practices in Safety, Health, and Environmental Training (ANSI/ASSE Z490.1), the highest industry standard for training.
After successfully completing 32hrs of training Monday through Thursday you will receive a Gravitec training certificate of attendance card for having completed the course. On Friday you will be evaluated by a SPRAT Evaluator in accordance with SPRAT guidelines.  Once you pass the SPRAT evaluation you will receive your  SPRAT Level I certification.
All required equipment will be provided by Gravitec.
CALL GRAVITEC'S TRAINING ADVISORS AT
1.800.755.8455

FOR MORE INFORMATION
Course Duration
40 Hours Total (MON-FRI)
32 Hours Training (MON-THUR)
8 Hours SPRAT Evaluation (FRI)
Course Dates
April 10 – 14, 2023
May 15 – May 19, 2023
June 26 – June 30, 2023
July 31 – August 4, 2023
Sept. 18 – Sept. 22, 2023
Oct. 16 – Oct. 20, 2023
Nov. 13 – Nov. 17, 2023
Dec. 4 – Dec. 8, 2023
Prerequisites
Prior to evaluation, all candidates must be at least 18 years old. You must Sign a liability release form and statement of physical and mental fitness to perform rope access work. It is recommended that a medical examination is performed prior to the start of the class because this course does include a moderate to a high level of strenuous exercise. No previous experience with rope access is necessary. You shall receive training by a competent trainer prior to evaluation as a Level I. This training is designed to prepare the candidate to demonstrate proficiency in the skills required at the desired level of certification. Proof of training shall be provided with experience documentation via a training affidavit. 
This course includes a moderate to a high level of strenuous exercise while working at height. It is recommended that all students should have the following mental attributes and be able to complete the activities listed below:
Health respect for heights
Safety first mindset
Run 1 mile
Complete 20 consecutive sit-ups
Complete 2 consecutive pull-ups or chin-ups
Note: Participants will be required to perform moderate to strenuous activities for five consecutive eight-hour days in a group setting and will be expected to keep up with an established course schedule and group pace. Arm, elbow, and shoulder strains are relatively common and a short warm-up, or stretching routine, before the day of training can help minimize the potential for muscle strains and other injuries.
Learning Objectives

Students completing this course will be taught to evaluate hazards and use basic rope access equipment and techniques under the supervision of a SPRAT Level III to access a wide array of work areas where traditional means of access are unavailable. Additionally, this course prepares participants to be evaluated for their SPRAT Level I certification. 
Fundamentals of Rope Access
Regulatory Requirements for Rope Access & Fall Protection
Hierarchy of Fall Protection
Roles and Responsibilities of Rope Access Technicians
Job Safety
Rope Access Equipment Use and Inspection
Use of Secondary Devices
Use of Ascenders
Use of Descenders
Change Over (Switching from Ascent to Descent & Descent to Ascent)
Passing Knots
Rope-to-Rope Transfers
Deviations
Re-Anchors
Edge Negotiation
Rope and Sling Protection
Horizontal Aid Climbing
Level 1 Rescue Scenario
Knots
Anchorage Systems
Hauling and Lowering Systems
Resource Materials
Students will receive a plastic wallet certificate of attendance, Gravitec's Rope Access Manual and access to our toll-free number for ongoing technical assistance. SPRAT documents are included with the course.
COURSE CREDITS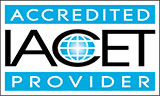 Gravitec is accredited by IACET
to offer 3.2 CEUs for this program.
SPRAT's Evaluation Guidelines found in Public Documents.