ANSI Z359 Fall Protection Program Administrator
COURSE DESCRIPTION
Gravitec's ANSI Z359 Fall Protection Administrator Course provides competent persons, site managers, owners, safety professionals and foremen with the tools, guidelines and materials to develop a company specific Fall Protection Program outlined in ANSI/ASSE Z359.2. Course topics include; identification and control of fall hazards, compliance with fall protection regulations, development of solutions, training needs assessment, inspection requirements of equipment and writing work procedures. This course is designed for people who are responsible for creating or managing fall protection programs. This course is a workshop format, where students uses case studies of worksites where fall hazards exist and students assess the fall hazards, determine compliance with occupational health and safety laws, develop solutions according to the Hierarchy of Fall Protection, determine training needs and develop written procedures. The workshops correlate with the content and objectives of ANSI Z359.2, Minimum Requirements for a Comprehensive Managed Fall Protection Program. Students use and read this standard throughout the course.
This is not a fall protection trainer course and the workshops do not include climbing or use of fall protection equipment.  This course is designed for people who are already familiar with fall protection and rescue systems, but want to develop or improve their fall protection program.  Refer to the Fall Protection Trainer Course for information about becoming a fall protection trainer.
This course meets the Criteria for Accepted Practices in Safety, Health, and Environmental Training (ANSI/ASSE Z490.1). It also meets the requirements of ANSI/ASSE Z359.2, Minimum Requirements for a Comprehensive Managed Fall Protection Program, found in the ANSI/ASSE Z359 Fall Protection Code.
CALL GRAVITEC'S TRAINING ADVISORS AT
1.800.755.8455

FOR MORE INFORMATION
COURSE DURATION
2 Days (16 hours)
CLASS SIZE
Minimum 8, Maximum 20
COURSE DATES
June 1 – 2, 2023 (ONLINE)
September 7 – 8, 2023 (ONLINE)
November 20 – 21, 2023 (ONLINE)
December 28 – 29, 2023 (ONLINE)
PRE-REQUISITES
There are no pre-requisites for this course, however it is strongly encouraged that student be very familiar with the use of fall protection equipment and systems to understand the content (past history of working at height and/or a 40 hour Competent / Tower / Wind / Qualified / Trainer level course is recommended).
* Student must bring laptop or tablet capable of Internet access. Wireless is provided at Gravitec Systems Training Institute. 
RESOURCE MATERIALS
Students will receive a plastic wallet card and paper certificate of attendance. They will also receive Gravitec Systems Fall Protection Manual, Program Administrator Workbook, access to Student Resources and 800 number for future support and technical assistance.
COURSE CREDITS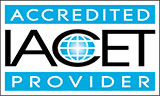 Gravitec is accredited by IACET
to offer 2.4 CEUs for this program.