ANSI Z359 Fall Protection Program Administrator
COURSE DESCRIPTION
Gravitec's ANSI Z359 Fall Protection Administrator Course provides managers and safety professionals with the tools, guidelines and materials to develop an industry standard Comprehensive Managed Fall Protection Program outlined in ANSI/ASSE Z359.2. Course topics include development of corporate policies, identification and ranking of corporate-wide fall hazards, fall hazard abatement, fall protection training, inspection of fall protection and rescue equipment and writing work procedures. This course is designed for safety professionals who are responsible for fall protection programs but may not work at height themselves or otherwise be specialists in the fall protection arena. Written and practical tests are administered to ensure that the principles presented in the course are understood. Gravitec can supply all necessary fall protection equipment for this course.
Documentation is available to satisfy your company's due diligence and regulatory requirements. This course is not a fall protection trainer course. Participants who complete this course are not endorsed to conduct fall protection training. Refer to the Fall Protection Trainer Course for information about becoming a fall protection trainer.
This course meets the Criteria for Accepted Practices in Safety, Health, and Environmental Training (ANSI/ASSE Z490.1), the highest industry standard for training. It also meets the requirements of ANSI/ASSE Z359.2, Minimum Requirements for a Comprehensive Managed Fall Protection Program, found in the ANSI/ASSE Z359 Fall Protection Code.
CALL GRAVITEC'S TRAINING ADVISORS AT
1.800.755.8455

FOR MORE INFORMATION
CLASS SIZE

Minimum 8, Maximum 10 (1 Instructor)
Minimum 14, Maximum 20 (2 Instructors)
LEARNING OBJECTIVES
Upon completion of this course, students will be able to identify the steps necessary to plan, implement and evaluate a Comprehensive Managed Fall Protection Program.
Fundamentals of Fall Protection
Corporate Policy Agreements
Fall Hazard Ranking System (Workshop)
Calculated Clearance (Workshop)
Written Fall Protection Procedures (Workshop)
Conducting Facility-Wide Surveys
Inspection Program Requirements
Hierarchy of Fall Protection – 5 Workshop Exercises
Fall Arrest and Fall Restraint Components
System Compatibility
Elements of Fall Protection Training
Roles of the Authorized Person, Competent Person and Qualified Person
RESOURCE MATERIALS
Students will receive a plastic wallet and paper certificate of attendance. They will also receive Gravitec's Fall Protection Program Administrator manual and access to our toll-free number for ongoing technical assistance.
COURSE CREDITS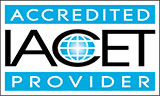 Gravitec is accredited by IACET
to offer 2.4 CEUs for this program.