TRAIN THE TRAINER
Fall Protection and Rescue Train the Trainer

Tower Climbing Fall Protection and Rescue Train the Trainer

Wind Turbine Fall Protection and Rescue Train the Trainer
COURSE DESCRIPTION
If you have taken this course before and are looking for the refresher course to re-certify your credential, click here. Gravitec's Fall Protection Train the Trainer – Advanced Program provides student trainers with the technical knowledge and resource materials necessary to deliver professional, in-house fall protection and rescue training. The Train the Trainer – Advanced program includes all of the resources necessary to conduct lectures, demonstrations, and exercises of commonly used fall protection equipment and rescue systems. Student Trainers are expected to have previous experience using active fall protection systems and delivering skill-based training (i.e. first aid, rope access, vehicle operation, etc.). Employers selecting personnel as trainers should select candidates that have at-height work experience and the physical ability to climb structure and rescue students if incidents during training arise. Ideally, student trainers should have previous experience in delivering skill-based training and be familiar with public speaking, conducting demonstrations, and supervising exercises. This course is designed according to the training requirements of ANSI Z359.2. Gravitec Systems is an Authorized Provider accredited through the International Association of Continuing Education and Training (IACET).
This program enables Train the Trainer students to deliver fall protection and rescue training that includes the use of rope descent systems as well as evacuation, assisted and suspended rescues.
If your needs as a trainer do not include the use of rope descent systems or rescue, the Train the Trainer – Basic program may better suit your needs.  The Advanced program is designed for employers who use rope descent systems and need to train their staff on how to conduct basic rescues.
CALL GRAVITEC'S TRAINING ADVISORS AT
1.800.755.8455

FOR MORE INFORMATION
COURSE DURATION
5 Days (40 Hours)
CLASS SIZE
Minimum 8, Maximum 10 (1 Instructor)
Minimum 14, Maximum 20 (2 Instructors)
COURSE DATES
November 14 – 18, 2022
December 12 – 16, 2022
January 16 – 20, 2023
February 13 – 17, 2023
March 13 – 17, 2023
April 3 – 7, 2023
April 24 – 28, 2023
STUDENT RESOURCES
Students enrolled in the Train the Trainer Program will receive all necessary resources to deliver and document the training event. These resources include:
PowerPoint Presentation (over 200 slides with hi-res graphics matched to Lesson Plans)
Needs Assessment Tool for determining training needs.
Lesson Plans that include all types of active fall protection systems, rope descent systems, basic evacuation, assisted and suspended rescue methods.
300-page Fall Protection and Rescue Manual.
Instructor Manual with PowerPoint notes pages.
Documentation to individualize and quantify student performance.
Access to ordering Gravitec Systems Student Booklets and Attendance Certificates.
PREREQUISITES
REQUIRED:
40 hour Competent Person course
Previous fall protection and rescue training (i.e 2 years work experience involving heights and training to an authorized or competent person level)
Previous experience in some level of adult skill-oriented training (i.e. First Aid instructor, BLS instructor, SCUBA, Firearms Safety, Heavy Equipment Operator, etc.)
Organizations and Trainers must sign a training license agreement with Gravitec prior to enrollment in the course
PERFORMANCE REQUIREMENTS
It is important to note that student trainers must meet minimum performance requirements to pass this course and be certified as a Gravitec Train the Trainer.  All reasonable efforts will be made for student trainers to practice all required skills, but all student trainers must complete the required exercises within the specified timeframe during the course to be certified.  Among other requirements, student trainers must:
Attend the entire program.
Achieve 90% on the written examination. (50 Multiple Choice Questions)
Climb a fixed ladder, up to 30', several times during the week.
Maintain 100% protection during all exercises.
Conduct assisted and suspended rescues of 150 lb. mannequin.
Teach all Lesson Plans according to the procedure.
A complete list of all the student trainer requirements can be found here.
UPON COMPLETION
Students will receive a plastic wallet certificate of attendance.
COURSE CREDITS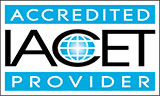 Gravitec is accredited by IACET
to offer 4.0 CEUs for this program.