NATE COMPETENT CLIMBER & RESCUE
COURSE DESCRIPTION
This course follows the National Association of Tower Erectors (NATE) Course Training Standard (CTS – 4thEdition) for any employee that must access towers and similar structure as well as supervise other staff on-site.   This course is designed for climbers that are identified as foreman, lead hands or supervisors that have responsibility and authority on-site regarding fall protection and rescue.   The course expands on the Authorized Climber content to include descent control, suspended rescue, detailed inspection of equipment and problem solving.  The competent climber course is designed for students to achieve a depth of knowledge beyond basic equipment use.  The course is a combination of classroom sessions focused on fall protection theory and practical hands-on exercises for workers using fall protection and rescue equipment in the tower industry. It introduces common fall protection tools and methods utilized to protect climbers from the various fall hazards encountered at tower sites with an overview of common equipment used to safely access and navigate tower structure.   The function of each piece of equipment is discussed during interactive classroom sessions, which are followed by extensive hands-on exercises for a complete fall protection learning experience.  The program includes descent control and several rescue methods (evacuation, assisted rescue, suspended rescue) using several pre-established rescue systems (Tr, G4, Block and Tackles or other manually operated rescue systems).
*NOTE: NATE requires that Competent Climbers have 90 days of experience and the authority to mitigate fall hazards.  It is the responsibility of the employer, not Gravitec Systems, to determine an employee's experience level and assign them the authority to mitigate fall hazards. The scope of Gravitec training course is limited to the use of fall protection and rescue equipment.
CALL GRAVITEC'S TRAINING ADVISORS AT
1.800.755.8455

FOR MORE INFORMATION
COURSE DURATION

5 Days (40 Hours)
Gravitec Systems can customize training courses to your specific company policy, equipment and rescue needs.  Call the Training Advisor at 800-755-8455 to discuss.
CLASS SIZE

Minimum 8, Maximum 10 (1 Instructor)
Minimum 14, Maximum 20 (2 Instructors)
COURSE DATES

Call 800.755.8455 for details.
Introduction to Fall Protection
Regulations and Company Policy
Anchorages & Anchorage Connectors
Connecting Hardware (Snap hooks, Carabiners & D-rings)
Full Body Harnesses
Energy Absorbers & Energy Absorbing Lanyards
Work Positioning Lanyards
Self-retracting Devices
Before Use Equipment Inspection, care and storage
Descent Control (Evacuation and work application)
Lifelines and Fall Arrestors
Ladder Climbing Safety Systems
Horizontal Lifelines
Knots
Assisted Rescue Methods
Suspended Rescue Methods
Rescue Exercises (Observation of Performance)
Before Use Equipment Inspection, care and storage
Pre-climb Checklist (JHA)
Fall Protection Exercises (Observation of Performance)
Written Review
RESOURCE MATERIALS
Students will receive a Competent Climber plastic wallet certificate of attendance, the Fall Protection and Rescue Manual and Resource Guide, as well as access to Gravitec Systems toll-free number for support and technical assistance.
COURSE CREDITS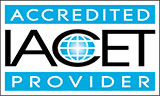 Gravitec is authorized by IACET
to offer 4.0 CEUs for this program.