COURSE DESCRIPTION
Gravitec's Industrial Rescue Course introduces participants to industrial rescue methods and emphasizes a planned approach to rescue where the acceptable rescue methods are determined in advance. Safety of the rescue team is considered before the rescue begins and stressed throughout the program. Classroom sessions are part of the curriculum but they are not the focus of this course. A large portion of this course is allocated to exercises where each student participates and practices with rescue methods. Written and practical tests are administered to ensure that the principles presented in the course are understood. Documentation is available to satisfy your company's due diligence and regulatory requirements.
This course meets the Criteria for Accepted Practices in Safety, Health, and Environmental Training (ANSI/ASSE Z490.1), the highest industry standard for training.
Students are encouraged to bring their own equipment for this course if possible. Gravitec can supply all necessary fall protection equipment for this course.
CALL GRAVITEC'S TRAINING ADVISORS AT
1.800.755.8455

FOR MORE INFORMATION
CLASS SIZE

Minimum 8, Maximum 10 (1 Instructor)
Minimum 14, Maximum 20 (2 Instructors)
COURSE DATES
Call 800.755.8455 for more details.
LEARNING OBJECTIVES
Upon completion of this course, students will be capable of selecting and constructing rescue systems for raising and lowering casualties. They will also be capable of setting up and using fall protection and belaying methods to protect rescuers during rescue operations. Students will be capable of properly handling ropes and tying knots that they might use in a rescue. They will also be capable of disconnecting incapacitated workers from fall arrest systems and lowering them from height. This course focuses on conducting rescues in a work setting where co-workers or a team will be responding to a worker at height or suspended in a fall arrest system.
Fall Protection Basics
Rescue Knots and Applications
Casualty Packaging Options
Rescue Rope (Static)
Engineered Rescue Systems (Pulleys and Winches)
Inspecting Rope, Hardware and Descent Devices
Anchoring for Rescue Systems
Descent Control Devices (Type 2)
Secondary Systems
Belay Systems
Z-Rig Construction
RESOURCE MATERIALS
Students will receive a plastic wallet certificate of attendance, Gravitec's Industrial Rescue Manual and access to our toll-free number for ongoing technical assistance.
COURSE CREDITS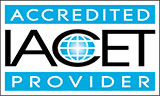 Gravitec is accredited by IACET
to offer 4.0 CEUs for this program.