COURSE DESCRIPTION
Gravitec's Workplace Rope Access Course is designed for personnel using ropes to access work areas where descending, ascending, and lateral movement is required. This course combines interactive classroom sessions with extensive hands-on fieldwork to maximize the learning experience. Participants are trained in techniques using equipment developed for high-angle environments commonly encountered by rope access personnel. Gravitec Systems training advisors work with employers to determine what skill sets, techniques, methods, and equipment are necessary for their work environment and develop the course curriculum accordingly.
This course covers the skills needed to perform the work required at your job site and is customized for each client to meet your specific needs. Most often this course includes job site safety, basic fall protection, and basic rope access techniques and rescues. 
This course meets the Criteria for Accepted Practices in Safety, Health, and Environmental Training (ANSI/ASSE Z490.1), the highest industry standard for training, and is tough in alignment with SPRAT's; Safe Work Practices for Rope Access Work. 
Note: Working Safely within a rope access program relies in large part on working under the supervision of an experienced rope access technician that possesses the ability to assess and mitigate hazards, rig appropriate systems, and rescue works from anywhere within the work area. This course does not prepare a student to supervise a worksite-based solely on the content of this course. If you are interested in finding supervision to facility rope access work at your job site after this course please check out Rope Access Supervision services. 
Note: If SPRAT certification is desired check out our SPRAT LEVEL I, LEVEL II, & LEVEL III courses required equipment will be provided by Gravitec. However, students can bring their own rope access equipment if it meets current regulations and standards.
CALL GRAVITEC'S TRAINING ADVISORS AT
1.800.755.8455

FOR MORE INFORMATION
COURSE DURATION
40 Hours (MON-FRI)
(Shorter, custom courses can be designed by consulting with a Gravitec Training Advisor.)
CLASS SIZE
Minimum 4
Maximum 16
COURSE DATES
Call 800.755.8455 for more details.
PREREQUISITES
No previous experience with rope access is necessary. Familiarity with rope (recreational climbing, arborist, window cleaning, rescue teams, etc.) is desirable but not required. A medical examination is recommended prior to the start of class because this course does include a moderate to high level of strenuous exercise while working at height. Additionally students should have the following mental attributes and be able to complete the activities listed below:
Health respect for heights

Safety first mindset

Run 1 mile

Complete 20 consecutive sit ups

Complete 2 consecutive pull ups or chin ups
Note: Participants will be required to perform moderate to strenuous activities for five consecutive eight hour days in a group setting and will be expected to keep up with an established course schedule and group pace. Arm, elbow and shoulder strains are relatively common and a short warm up, or stretching routine, before the day of training can help minimize the potential for muscle strains and other injuries.
LEARNING OBJECTIVES
Students completing this course will be taught to evaluate hazards and use basic rope access and fall protection equipment and techniques to access a wide array of work areas where traditional means of access are unavailable. Emphasis is placed on the ability to assess situations, select the most appropriate procedures and effectively utilize both traditional equipment and new technologies to execute safe operations.
Fundamentals of Rope Access & Fall Protection

Regulatory Requirements for Rope Access & Fall Protection

Hierarchy of Fall Protection

Job Safety

Rope Access & Fall Protection Equipment Use and Inspection

Use of Shock Absorbing Lanyards

Use of Self Retracting Devices 

Use of Secondary Devices

Use of Ascenders

Use of Descenders

Change Over (Switching from Ascent to Descent & Descent to Ascent)

Passing Knots

Rope-to-Rope Transfers

Deviations

Edge Negotiation

Rope and Sling Protection

Rescue from Descent

Rescue from Ascent

Knots

Anchorage Systems
Note: The skills listed above provide a basic outline of potential techniques for this course. Subtractions and additions should be made to custom tailor this course to your unique needs. Call Gravitec's training advisors at 1.800.755.8455 to schedule your course or for more information.
POTENTIAL ADDITIONAL SKILLS
Ladder Safety Systems

Re-Anchor

Horizontal Aid Climbing

Vertical Aid Climbing

Rescue through Knots

Rescue through Deviation

Rescue through Re-Anchor

Rescue from mid Rope-to-Rope

Rescue from mid Re-Anchor

Rescue from Horizontal Aid
Hitches

Rigging and System Dynamics

Hauling and Lowering

Rope Access System Pr-rigged to lower

Retrievable Rope systems

Pitch Head Break in and Lower

Cross-Haul

Hauling and Lowering Through Knots

Tensioned Rope Systems
Note: This program is not a rescue course and does not include rescue in industrial settings (ie: towers, warehouses, power plants), packaging or the use of attendants. If these skills are required, Gravitec's Industrial Rescue Course is the proper course.
RESOURCE MATERIALS
Students will receive a plastic wallet certificate of attendance, Gravitec's Rope Access Manual and access to our toll-free number for ongoing technical assistance.
COURSE CREDITS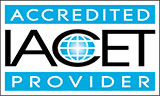 Gravitec is accredited by IACET
to offer 3.2 CEUs for this program.