Online Qualified Person and Refresher
COURSE DESCRIPTION
Gravitec offers a Qualified Person and Refresher training to engineers (professional engineers, engineers, and EIT's) so they can design effective and practical fall protection systems. Our Qualified Person course is also offered to non-engineers who wish to gain an awareness of the scientific principles or act as Qualified Persons in those aspects of fall protection where engineering is not required. Gravitec's Fall Protection Qualified Person Course offers an advanced curriculum covering the five basic methods of fall protection and current fall protection practices, fall protection theory and fall protection engineering. Qualified Person workshop exercises include calculation of clearances, energy dissipation, anchorage strengths, swing falls and performance of horizontal lifelines (including multiple spans, flexible anchorages, temperature effects, etc.).
A detailed review of a fall hazard ranking system is also covered. They are encouraged to ask site-specific questions. Written and practical tests are administered to ensure that the principles presented in the course are understood. Documentation is available to satisfy your company's due diligence and regulatory requirements.
This course meets the Criteria for Accepted Practices in Safety, Health, and Environmental Training (ANSI/ASSE Z490.1), the highest industry standard for training. It also meets the requirements of ANSI/ASSE Z359.2, Minimum Requirements for a Comprehensive Managed Fall Protection Program, found in the ANSI/ASSE Z359 Fall Protection Code.
CALL GRAVITEC'S TRAINING ADVISORS AT
1.800.755.8455

FOR MORE INFORMATION
COURSE DATES
March 20 – 24, 2023 (ONLINE)
June 5 – 9, 2023 (ONLINE)
August 21 – 25, 2023 (ONLINE)
September 18 – 22, 2023 (ONLINE)
November 13 – 17, 2023 (ONLINE)
December 18 – 22, 2023 (ONLINE)
LEARNING OBJECTIVES
Upon completion of this course, students will be able to design basic fall protection systems and identify those situations where additional expertise or knowledge is required. They will also be capable of performing calculations needed to design safe and effective fall protection systems.
The Role of the Competent/Qualified/Authorized Persons (Reference OSHA)
Assessing Clearance Requirements
Prioritizing Hazard Abatement Methods
Using Relative Risk Rating Systems
Five Forms of Fall Protection: Hierarchy, Legislative Requirements and Applications
Evaluating Fall Protection Plans
Theory of Energy Dissipation When Arresting a Fall
Calculating Personal Energy Absorber Deployment
Calculating the Distance Fallen During a Swing Fall
Calculating Maximum Arrest Force and Elongation of Vertical Lifelines
Assessing Energy Absorption by Ductile Anchorages
Proving Structural Capacity Using Load and Resistance Factor Design (LRFD)
Calculating Tension and Sag of Simple Horizontal Lifelines Using Energy Methods
Use of In-Line Energy Absorbers in Horizontal Lifelines
Complex Horizontal Lifelines and When to Involve Experts
RESOURCE MATERIALS
Students will receive a plastic wallet certificate of attendance and Gravitec's  Fall Protection Competent Person Manual and access to our toll-free number for ongoing technical assistance.
COURSE CREDITS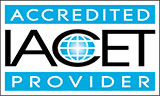 Gravitec is accredited by IACET
to offer 4.0 CEUs for this program.