US Navy OPNAV 5100 Chapter 13 Competent Person Refresher
COURSE DESCRIPTION
Students will gain a thorough understanding of how to recognize fall hazards and take corrective action according to the govern­ing body (EM 385-1-1, OPNAVINST 5100.23 Chapter 13, DON Fall Protection Guide, UFGS 01 35 25 and OSHA 1926.500-503, 1910.66 Appendix C). This program begins with a theory section that covers basic information common to all fall protection systems and works through multiple exercises. Gravitec's Competent Fall Protection Person Course is an intensive program that covers the use, selection and installation of conventional and non-conventional fall protection equipment.
This course also addresses relevant fall protection regulations and fall hazard identification. These components, combined with the hands-on set-up of fall protection systems, instill a working knowledge of all the essential elements of a fall protection program. The course curriculum includes both classroom sessions and practical hands-on exercises. Written and practical tests are administered to ensure that students understand the principles presented. Documentation is available to satisfy your company's due diligence and regulatory requirements.
CALL GRAVITEC'S TRAINING ADVISORS AT
1.800.755.8455

FOR MORE INFORMATION
CLASS SIZE

Minimum 8, Maximum 10 (1 Instructor)
Minimum 14, Maximum 20 (2 Instructors)
COURSE DATES

Call 800.755.8455 for more details.
RESOURCE MATERIALS
Students will receive a plastic wallet certificate of attendance, Gravitec's Competent Fall Protection Person Manual and access to our toll-free number for ongoing technical assistance.
COURSE CREDITS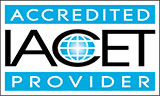 Gravitec is accredited by IACET
to offer 4.0 CEUs for this program.