Fall Protection Tower Trainer and Refresher
COURSE DESCRIPTION
Gravitec's Fall Protection Tower Trainer Course provides students with the teaching methodology and presentation materials to deliver professional in-house fall protection and rescue training from heights. It enables the Trainer to teach in a controlled environment and includes skill sets for safe fall protection and rescue exercises. Students successfully completing this course will be recognized as a Competent Climber & Rescue Trainer in accordance with ANSI/ASSE Z359.2 (Minimum Requirements for a Comprehensive Managed Fall Protection Program). Trainers will be able to deliver authorized fall protection and rescue training to meet the individual needs of their employers. Written and practical tests are administered to ensure that the principles presented in the course are understood. Documentation is available to satisfy your company's due diligence and regulatory requirements.
It should be noted that our Train-the-Trainer course is only one component of a fall protection program. We believe that every job site should have a Program Administrator, a Competent Person and Authorized Users. This course meets the Criteria for Accepted Practices in Safety, Health, and Environmental Training (ANSI/ASSE Z490.1), the highest industry standard for training. It also meets the requirements of ANSI/ASSE Z359.2, Minimum Requirements for a Comprehensive Managed Fall Protection Program, found in the ANSI/ASSE Z359 Fall Protection Code. Trainers are able to conduct authorized, and competent climber and rescue training according to the NATE Tower Climber Fall Protection Training standard. Gravitec can supply all necessary fall protection equipment for this course.
CALL GRAVITEC'S TRAINING ADVISORS AT
1.800.755.8455

FOR MORE INFORMATION
CLASS SIZE

Minimum 8, Maximum 10 (1 Instructor)
Minimum 14, Maximum 20 (2 Instructors)
COURSE DATES
REFRESHERS (WED – FRI)
April 3 – April 7, 2023
April 24 – April 28, 2023
May 22 – May 26, 2023
June 19 – June 23, 2023
Aug. 21 – Aug. 25, 2023
Sept. 18 – Sept. 22, 2023
Oct. 9 – Oct. 13, 2023
Oct. 30 – Nov. 3, 2023
Nov. 13 – Nov. 17, 2023
Dec. 18 – Dec. 22, 2023
PREREQUISITES
This program is fast-paced and not intended for new climbers or those without previous training experience. This program expects that students understand basic fall protection and rescue equipment use.
REQUIRED:
Previous fall protection and rescue training to the competent climber/rescuer level
Previous experience in some level of adult skill-oriented training
Organizations and Trainers must sign a training license agreement with Gravitec prior to enrollment in the course
LEARNING OBJECTIVES
Upon completion of this course, Trainers will have the materials to teach site-specific fall protection programs to their company's employees. Materials distributed during this course include presentations, exams, outlines, exercises, lesson plans, regulations, student manuals and documentation records. Trainers will be able to deliver training to Climbers and Rescuers using Gravitec's student manuals and materials.
Fall Protection Theory and Application
Hierarchy of Fall Protection
Ladder Climbing Systems
100% Energy Absorbing Lanyards
Work Positioning Systems
Gravitec's Tower Rescue System
Connector Compatibility
Descent Control
Block & Tackle Rescues
Equipment Inspection, Care and Maintenance
Troubleshooting During Exercises
Protecting the Rescuer
Conducting Safe Exercises
Lifelines and Fall Arrestor Systems
RESOURCE MATERIALS
Students will receive a plastic wallet certificate of attendance and Gravitec's Tower Climber & Rescue Trainer Resource Manuals.
COURSE CREDITS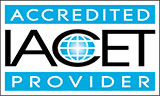 Gravitec is authorized by IACET
to offer 3.2 CEUs for this program.
STUDENTS WILL ALSO RECEIVE
Microsoft PowerPoint® Slide Presentation Trainer CD*
Outline and Procedures for Hands-On Activities
Climber and Rescuer Course Outline
Student Documentation (checklists for internal records)
*Microsoft PowerPoint® software is NOT included
Descent Control
Block & Tackle Rescues
Equipment Inspection, Care and Maintenance
Troubleshooting During Exercises
Protecting the Rescuer
Conducting Safe Exercises
Lifelines and Fall Arrestor Systems