Fall Protection Authorized Person
COURSE DESCRIPTION
Gravitec's Fall Protection Authorized Person Course is best-suited for workers at height who are required to have a working knowledge of the safe use of fall protection systems and their components. The course curriculum is focused on fall protection theory and practical hands-on exercises. It covers the use of the most common, commercially available fall protection systems. (This course does not address the installation, design or erection of fall protection systems.) Depending on the length of the course, students also learn how to select an appropriate fall protection system and participate in exercises in which they must identify a fall hazard and use the fall protection equipment correctly. Written and practical tests are administered to ensure that the principles presented in the course are understood. Documentation is available to satisfy your company's due diligence and regulatory requirements. This course meets the Criteria for Accepted Practices in Safety, Health, and Environmental Training (ANSI/ASSE Z490.1), the highest industry standard for training. Gravitec can supply all necessary fall protection equipment for this course.
CALL GRAVITEC'S TRAINING ADVISORS AT
1.800.755.8455

FOR MORE INFORMATION
COURSE DURATION

1/2 – 3 Days (4 – 24 Hours)

COURSE SIZE

Minimum 8, Maximum 10 (1 Instructor)
Minimum 14, Maximum 20 (2 Instructors)
COURSE DATES
Call 800.755.8455 for more details.
LEARNING OBJECTIVES
Upon completion of this course, students will understand and be capable of properly using the fall protection systems covered in the course.
    Fundamentals of Fall Protection
    Regulatory Requirements for Fall Protection
    Responsible Persons
    Hierarchy of Fall Protection
    Anchorage Requirements
    Energy Absorbing Lanyards
    Function and Purpose of Energy Absorbers
    Fall Protection Hardware Compatibility
    Work Positioning Systems
    Inspecting Fall Protection Systems
    Donning a Full Body Harness
    Self-Retracting Lifelines
    Vertical Lifelines
    Horizontal Lifelines
    Ladder Safety Systems
RESOURCE MATERIALS
Students will receive a plastic wallet certificate of attendance, Gravitec's Fall Protection Authorized Person Manual and access to our toll-free number for ongoing technical assistance.
COURSE CREDITS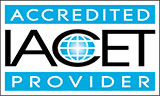 Gravitec is accredited by IACET to
offer 2.4 CEUs for this program.