COURSE DESCRIPTION
Gravitec's Equipment Inspection Course is designed to introduce standardized practices for fall protection equipment inspection by using a variety of hands-on exercises. The typical participant is responsible for the care, marking and maintenance of equipment. Topics covered include the basic set-up and use of fall protection systems and equipment to understand how the equipment is used. The regulations and standards for the inspection of fall protection systems and equipment are covered in detail along with record-keeping requirements. Students receive a CD and equipment logbook that will enable them to return to their job sites with the tools for managing a standardized inspection and record-keeping program.
Written and practical tests are administered to ensure that the principles presented in the course are understood. Documentation is available to satisfy your organization's due diligence and regulatory requirements.
This course meets the Criteria for Accepted Practices in Safety, Health, and Environmental Training (ANSI/ASSE Z490.1), the highest industry standard for training.
Gravitec can supply all necessary fall protection equipment for this course.
CALL GRAVITEC'S TRAINING ADVISORS AT
1.800.755.8455

FOR MORE INFORMATION
CLASS SIZE

Minimum 8, Maximum 10 (1 Instructor)
Minimum 14, Maximum 20 (2 Instructors)
COURSE DATES

Call 800.755.8455 for more details.
LEARNING OBJECTIVES
Upon completion of this course, students will be able to identify fall protection equipment and the materials used in their construction. Students will also be capable of inspecting and assessing fall protection equipment and documenting and maintaining inspection records. They will also possess a working knowledge of the standards and regulations pertaining to the inspection of fall protection equipment.
Regulations for Inspecting Fall Protection Equipment
Inspecting Manufactured Anchorage Connectors
Inspecting Snaphooks and Carabiners
Inspecting Energy Absorbers
Inspecting Full Body Harnesses
Inspecting Work Positioning Systems
Inspecting Manufactured Horizontal Lifelines
Inspecting Rope
Inspecting Vertical Lifelines
Inspecting Fall Arresters (Rope Grabs)
Inspecting Self-Retracting Lifelines
Documenting Inspections
How To Use the Gravitec Inspection CD
Inspecting custom/engineered fall protection systems
RESOURCE MATERIALS
Students will receive a plastic wallet certificate of attendance, Gravitec's Fall Protection Equipment Inspector Manual, and a comprehensive equipment inspection CD, which includes manufacturers' instructions for over 200 separate pieces of equipment. Students will also receive access to our toll-free number for ongoing technical assistance.
COURSE CREDITS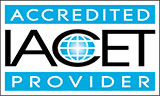 Gravitec is authorized by IACET
to offer 0.8 CEUs for this program.