Understanding the ANSI Z359 Fall Protection Code
COURSE DESCRIPTION
Unfortunately there is a lot of confusion about the application and use of the Z359 Fall Protection Code within the safety community.  New standards seem to be coming out every month and users of the documents are confused as to which standard applies to which piece of equipment, how equipment is tested, how equipment is marked, what standards are coming out, if any are incorporated by reference and what they need to do to comply with an ANSI standard.  This is compounded by technical duplication of content from Z359.1 and the Fall Protection Code.
This session is designed for Competent Fall Protection Persons. Qualified Persons, Program Administrators, Equipment Purchasers and policy writers or auditors.
CALL GRAVITEC'S TRAINING ADVISORS AT
1.800.755.8455

FOR MORE INFORMATION
COURSE DATES
Call 800.755.8455 for details.
This session works to explain how the Z359 Fall Protection Code has been developed, it's intended use and application of each standard within it.
This one-day seminar will review and discuss the main points of all standards within the Z359 Fall Protection Code and answer questions that participants have.
This session will discuss and define each standard, and demonstrate how employers can use each standard to the benefit of their organization.
Kevin Denis will present and moderate this one-day workshop, awarding attendee's with .8 CEU's upon conclusion, with a focus of providing direction for employers how to apply the Fall Protection Code.  Mr. Denis serves on several ANSI Z359 sub committee's and is the subcommittee chair of Z359.15.  Mr. Denis works directly with Randall Wingfield, President of Gravitec Systems, Inc. and Chairman of ANSI Z359 Accredited Standards Committee.
RESOURCE MATERIALS
Students will receive a plastic wallet and paper certificate of attendance. They will also receive Gravitec's Fall Protection Program Administrator manual and access to our toll-free number for ongoing technical assistance.
COURSE CREDITS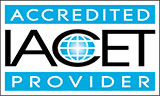 Gravitec is accredited by IACET
to offer 0.8 CEUs for this program.