Qualified Fall Protection Person
COURSE DESCRIPTION
Gravitec offers Qualified Fall Protection Person training to engineers (professional engineers, engineers, and EIT's) so they can design effective and practical fall protection systems. Our Qualified Person course is also offered to non-engineers who wish to gain an awareness of the scientific principles or act as Qualified Persons in those aspects of fall protection where engineering is not required. Gravitec's Qualified Fall Protection Person Course offers an advanced curriculum covering the five basic methods of fall protection (Hierarchy of Fall Protection Solutions) and current fall protection practices, fall protection theory and fall protection engineering. Qualified Person workshop exercises include calculation of clearances, energy dissipation, anchorage strengths, swing falls and performance of horizontal lifeline calculations (including multiple spans, flexible anchorages, temperature effects, etc.).
This course does not focus on a single manufacturers equipment but includes methods that will be applicable to any manufacturers system and/or equipment.
A detailed review and exercise in ranking of fall hazards is also covered. Students are encouraged to ask site-specific questions. A written test is administered to ensure that the principles presented in the course are understood. Documentation is available to satisfy your company's due diligence and regulatory requirements. Successful completion of the class grants 4.0 CEUs or 40PDH for students required to have continuing education credits (i.e CSP, PE, SE) to maintain their licenses.
This course meets the Criteria for Accepted Practices in Safety, Health, and Environmental Training (ANSI/ASSE Z490.1), the highest industry standard for training. It also meets the requirements of ANSI/ASSE Z359.2, Minimum Requirements for a Comprehensive Managed Fall Protection Program, found in the ANSI/ASSE Z359 Fall Protection Code.
This course is IACET Accredited. Professional Engineers can take one class and satisfy their Professional Development requirements for most states.
Students will need to bring their own laptops for this course. Laptops must be capable of running the full version of Microsoft Excel.
CALL GRAVITEC'S TRAINING ADVISORS AT
1.800.755.8455

FOR MORE INFORMATION
CLASS SIZE

Minimum 8, Maximum 10 (1 Instructor)
Minimum 14, Maximum 20 (2 Instructors)
COURSE DATES
April 24 – 28, 2023
June 5 – 6, 2023 (ONLINE)
July 24 – 28, 2023
August 21 – 25, 2023 (ONLINE)
September 18 – 22, 2023 (ONLINE)
October 9 – 13, 2023
November 13 – 17, 2023 (ONLINE)
December 18 – 22, 2023 (ONLINE)
THE QUALIFIED PERSON COURSE QUALIFIES FOR 40 PDH CREDITS IN LIFE SAFETY ENGINEERING FOR THE STATES BELOW:
Alabama
Alaska
Arkansas
Delaware
Georgia
Idaho
Illinois
Indiana
Iowa
Kansas
Kentucky
Maine
Maryland
Michigan
Minnesota
Mississippi
Missouri
Montana
Nebraska
Nevada
New Hampshire
New Jersey
New Mexico
North Dakota
Ohio
Oregon
Puerto Rico
Pennsylvania
South Carolina
South Dakota
Tennessee
Texas
Utah
Virginia
West Virginia
Wisconsin
Wyoming
PREREQUISITES
REQUIRED
40 hour Competent Person course
MINIMUM
High school level algebra (Pre-test available)
Knowledge of fall protection equipment (i.e. harnesses, lanyards, etc.)
Authorized Person Course
PREFERRED
Engineering, physics, technical diploma or degree, and previous fall protection training or experience (Competent Person Course).
*Note: this course does not include the use of fall protection equipment and systems. Refer to competent or authorized person training including equipment use.
LEARNING OBJECTIVES
Upon completion of this course, students will be able to design basic fall protection systems and identify those situations where additional expertise or knowledge is required. They will also be capable of performing calculations needed to design safe and effective fall protection systems.
The Role of the Competent/Qualified/Authorized Persons. (Reference OSHA)
Properties of lanyards, SRDs, ropes, etc. and how they are used in design.
Assessing Clearance Requirements
Prioritizing Hazard Abatement Methods
Using Relative Risk Rating Systems
Five Forms of Fall Protection: Hierarchy, Legislative Requirements, and Applications
Theory of Energy Dissipation When Arresting a Fall
Rigid Rails
Regulatory (i.e. OSHA) requirements for PFAS
Consensus standards for PFAS (i.e. ANSI Z359)
Calculating Personal Energy Absorber Deployment
Calculating the Distance Fallen During a Swing Fall
Calculating Maximum Arrest Force and Elongation of Vertical Lifelines
Assessing Energy Absorption by Ductile Anchorages
Calculating Tension and Sag of Simple Horizontal Lifelines Using Energy and Static Methods
Use of In-Line Energy Absorbers in Horizontal Lifelines including temperature change effects.
Complex Horizontal Lifelines and When to Involve Experts
RESOURCE MATERIALS
Students will receive both a plastic wallet certificate and paper certificate of attendance, suitable for framing. They will receive Microsoft Excel spreadsheets for analysis of vertical lifelines, simple horizontal lifelines and complex horizontal lifelines. They will also receive Gravitec's Fall Protection Qualified Person Manual and access to our toll-free number for ongoing technical assistance.
COURSE CREDITS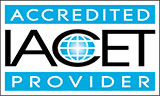 Gravitec is accredited by IACET
to offer 4.0 CEUs for this program.