OSHA 1910.23 Fall Protection & Ladders – Train the Trainer
COURSE DESCRIPTION
This OSHA 1910.23 Fall Protection & Ladders – Train the Trainer course is designed for those companies with ladders on their property that must adhere to the new "Walking-Working Surfaces and Personal Fall Protection Systems Final Rule" / OSHA Regulations. These updated regulations give specific rules for fixed ladders over 24′. These ladders must be equipped with personal fall protection systems while simultaneously phasing out ladder cages. New installations after Nov. 2018 must have ladder safety systems and all ladders must have them by 2036. This course outlines all aspects of fall protection related to the updated regulations, required equipment, safely ascending, descending and rescuing those individuals who must use these fixed ladders as part of their job description. All necessary instruction, PowerPoint presentations, documentation, and testing is provided to the Trainer as part of this course.
COMPLIANCE
This course complies with requirements of 1910.23, PFAS used according to 1910.140 and training requirements of 1910.30.
CALL GRAVITEC'S TRAINING ADVISORS AT
1.800.755.8455

FOR MORE INFORMATION
CLASS SIZE

Minimum 8, Maximum 10 (1 Instructor)
Minimum 14, Maximum 20 (2 Instructors)
COURSE DATES

Call 800.755.8455 for more details.
PREREQUISITES
40 hour Competent Person course
This course includes a moderate level of climbing. Participants will complete a physical disclosure. Refresher students must have attended previous Gravitec Systems Trainer programs.
LEARNING OBJECTIVES
This program is designed for workers who are conducting training for workers who work with fixed and portable ladders and must apply fall protection systems accordingly.
RESOURCE MATERIALS
Students will receive a wallet certificate of attendance and Gravitec's Fall Protection Trainer Manual.
COURSE CREDITS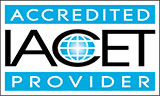 Gravitec is accredited by IACET
to offer 2.4 CEUs for this program.