Fall Protection for Roofers
COURSE DESCRIPTION
Given the recent OSHA focus on fall protection and roofing activities, many organizations have concerns about what type of fall protection should, or can, be applied to their buildings. This workshop will review current OSHA fall protection requirements on roofs, both construction and general industry applications, and provide attendee's with the tools and knowledge they need to protect workers on the roofs of their buildings. This two day workshop will review OSHA roofing requirements, exceptions and exclusions, hazard assessment, hierarchy of roofing controls, and common fall protection systems and equipment used on roofs.
Attendees will be participating in exercises where they evaluate a situation and create a fall restraint or fall arrest system according to the given application. At the conclusion of this program, attendee's will be able to evaluate and determine what is the most applicable solution to their specific roof application.
CALL GRAVITEC'S TRAINING ADVISORS AT
1.800.755.8455

FOR MORE INFORMATION
COURSE DATES

Call 800.755.8455 for more details.
RESOURCE MATERIALS
Students will receive a plastic wallet and paper certificate of attendance. They will also receive Gravitec's Fall Protection Program Administrator manual and access to our toll-free number for ongoing technical assistance.
COURSE CREDITS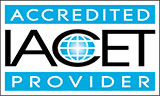 Gravitec is accredited by IACET
to offer 0.8 CEUs for this program.