Combined Train the Trainer & Competent Person Refresher
COURSE DESCRIPTION
This program is a blended training program where students that have taken the Trainer and Competent Person course to refresh their knowledge and skills during a single training event rather than attending multiple refresher courses. A large number of Gravitec students have taken both courses to develop a depth of knowledge. Having to maintain two certifications becomes difficult since two separate refresher courses are usually required.
This program offers students an alternative by attending a longer single event than two shorter events. The week combines training elements that are common to all certifications (harness, fall distance, clearances, etc.) and uses a combination of challenge tests and exercises to confirm foundational knowledge. The course then moves into competent person elements (hazard identification, compliance, standards) and finishes the week with trainer and rescue elements. Trainer materials are updated (books, presentations, documentation) and new standards and regulations are reviewed throughout the week.    
CALL GRAVITEC'S TRAINING ADVISORS AT
1.800.755.8455

FOR MORE INFORMATION
CLASS SIZE

Minimum 8, Maximum 10 (1 Instructor)
Minimum 11, Maximum 20 (2 Instructors)
COURSE DATES

February 20 – 24, 2023
June 5 – 9, 2023
PRE-REQUISITES
– Successful completion of Gravitec Trainer Course and 40 hour Competent Person course, Program Administrator or EM385 Competent Person Course.
– One of the Gravitec Certification Cards must be within six-months of currency and the other must be within the last five years.
LEARNING OBJECTIVES
Upon completion of this course students will have participated in lecture, workshops, exercises, rescue scenarios and co-instruction of all fall protection and rescue training modules in the Gravitec Trainer Program. The objectives of this course are:
– Recertify Trainer and other Gravitec certificates efficiently during one training event.
– Confirm existing fall protection knowledge and skills related to Competent course content.
– Confirm existing trainer knowledge, skills and rescues related to Trainer course content.
– Update learning materials to current versions.
– Provide a safe environment where student can practice teaching exercises and rescue events.
RESOURCE MATERIALS
Students will receive a plastic wallet certificate of attendance, Gravitec's Competent Fall Protection Person Manual and access to our toll-free number for ongoing technical assistance.
COURSE CREDITS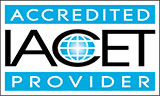 Gravitec is accredited by IACET
to offer 4.0 CEUs for this program.