COURSE DESCRIPTION
Crane operators, utility workers, power generation or distribution locations, signage operators, manufacturing, aerospace workers, construction workers or anyone working from an aerial lift will benefit from this workshop.
This one-day workshop will discuss, review and provide opportunities for students to evacuate from guarded baskets using equipment and systems designed for evacuation from aerial lifts. Commonly referred to as "bucket truck evacuation," the equipment and techniques used can apply to any at height vehicle or location.
A number of common evacuation devices will be used and attendees are encouraged to bring their own system for inspection, discussion, evaluation and use during the workshop.
CALL GRAVITEC'S TRAINING ADVISORS AT
1.800.755.8455

FOR MORE INFORMATION
CLASS SIZE

Minimum 8, Maximum 10 (1 Instructor)
Minimum 14, Maximum 20 (2 Instructors)
COURSE DATES

Call 800.755.8455 for more details.
There are a number of descent control devices available and this workshop will detail common features of these devices and systems and discuss applicability of ANSI Z359.4 Safety Requirements for Assisted-Rescue and Self-Rescue Systems, Subsystems and Components.
At the conclusion of the program, attendee's will have a foundational understanding of key safety features that evacuation and descent control systems should have.
Attendees will have the opportunity to exit a guarded area and safely descend to the ground.
Session attendees will be able to specify devices and understand their use as it applies to their workplace.
This workshop begins with a short introduction to evacuation (often referred to as self-rescue) and descent control.  After the introduction, the remainder of the workshop involves equipment orientation and multiple descents from a guarded area (simulating a work basket) using a variety of devices.
RESOURCE MATERIALS
Students will receive a plastic wallet and paper certificate of attendance. They will also receive Gravitec's Fall Protection Program Administrator manual and access to our toll-free number for ongoing technical assistance.
COURSE CREDITS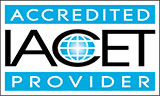 Gravitec is accredited by IACET
to offer 0.8 CEUs for this program.